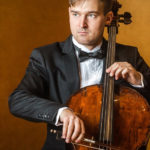 Currently not available for listening. Stay tuned!
As an international guest conductor Mr. Pehk has collaborated with the State Academic Bolshoi Opera and Ballet Theatre (Republic of Belarus), with Erfurt Theater (Germany), Rennes Opéra and Angers-Nantes Opéra (France), Varna State Opera and Bourgas State Opera (Bulgaria) and Kaunas State Musical Theater (Lithuania). In November 2010 he made his debut in the Amsterdam Concertgebouw with the Opera Studio of Netherlands. He also conducted tours of Die Fledermaus and Die Lustige Witwe with International Opera Productions in various theaters in Belgium and the Netherlands in 2011-2012. He has conducted concerts in many other countries like Finland, France, Germany, Hungary, Latvia, Russia and Ukraine.
He collaborated with several renowned musicians: violinist Tatiana Grindenko, countertenor Max Emanuel Cencic, flute player Camilla Hoitenga, soprano Barbara Hendricks, trumpet player and composer Markus Stockhausen, composer Sofia Gubaidulina etc.
In 2000 he founded his own orchestra in Tallinn: the 21st Century Orchestra and he is the principal conductor of this ensemble that plays mostly contemporary but also classic repertoire from Estonian and international composers.
Most active collaboration has Mr. Pehk with the Kaunas State Musical Theatre (since 2011) and with the Ukrainian National Chamber Ensemble "Kyiv Soloists" (since 2016).